I got some really awesome things this week alot of swag and some books that I won from giveaways!
Books and Swag I Won:
Jessi Kirby has been doing Moonglass Inspired Giveaways leading up to the Release of her book Moonglass which will be released May 3, 2011. I won one of the giveaways and got the awesome stuff shown above. Thank you Jessi! If you haven't already check out her
website
and learn more about her book.
I won a mug, coffee, bookmark, stick note pad, keychain and amazon giftcard from Jessica McQuinn's Easter Hoppin' Blog giveaway. All of the swag has Indivisible on it which sounds really good. You can learn more about her by checking out her
website
. Thanks Jessica!
Intense Whisper
had a guest post from author
Tessa Adams
a few weeks ago and she did an awesome giveaway while there. I won the first book in her Dragon Heart series Dark Ember. I can't wait to read it. There was also alot of swag with it including a preview of her second and newest book Hidden Embers.There were also lots of book marks and a preivew and poster for her YA book Tempest Rising which is written under the name Tracy Deebs. Thank you Tracy!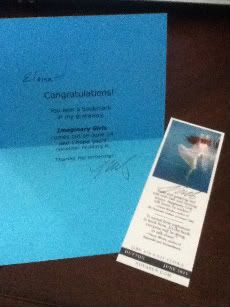 Then last but not least I won a beautiful bookmark for
Nova Ren Suma's
new book Imaginary Girls which will be out June 14, 2011. I'm really excited about this book and can't wait to read it. Thank you Nova!
Books I Bought:
I bought some really awesome books this week. I've already read Clockwork Angel but I didn't have my own copy of it and I got an amazing deal on it that I couldn't pass up so i'm really excited about adding it to my collection. I also got Under Wraps and Grave Witch I can't wait to sit down and read both of these.
So what did you get in your mailbox?