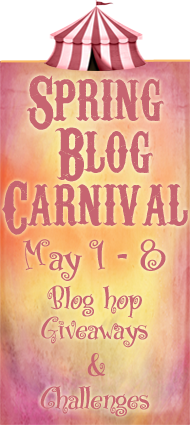 Spring Blog Carnival!
Lori from
Pure Imagination
, Angela from
Reading Angel
, Candace from
Candace's Book Blog
, Mary from
The Book Swarm
, decided to join together and throw a blog party!
The carnival runs from 12:01 May 1, 2011 through midnight May 8, 2011. All times EDT.
May 1st-
Reading Angel: Haunted House
Reading Teen: Fortune Tellers Booth

May 2nd-
Candace's Book Blog: Food Court
The Mod Podge Bookshelf: House of Mirrors

May 3rd-
The Book Swarm: Roller Coaster
Actin' Up With Books: Karaoke Booth

May 4th-
Pure Imagination: Kissing Booth
Lovely Lit: Once Upon a Time Booth

May 5th-
Awesomesauce Books: Gaming Booth
Books R Us: Medieval Booth

May 6th-
Extreme Reader Book Reviews: Guessing Booth
Colloquium: Cotton Candy Booth

May 7th-
The Minding Spot: Teacups Booth
Miss Remmers Review: It's a Bad World Booth
Since there are so many sites to visit i'm going to keep this short and sweet. Enter the giveaway to win a $15 giftcard to Amazon or choose a book or two of your choice from the Book Depository up to $15 US (if they ship to you, check
here
):

Must be 13+ to enter:
+1 blog follower which is the original entry
+1 twitter follower(optional)
+1 goodreads friend (optional)
+1 for tweeting the giveaway
This giveaway is International. Enter using this
FORM
. Entries done in comments won't be counted, if you have a problem with the form you can email me ereader89 AT aol DOT com. If you want me to follow your blog after you enter you can leave that in the comments =)
Don't forget to hop on over to the next blog to see what awesomness they are giving away!